Are you feeling anxious/worry or having a problem sleeping at night? Try this breathing exercise, and it will help you to relax your body and calm your mind.
The poster with different Asian languages below can help you to practice the 4-7-8 breathing
Chinese
你是否感到焦虑或有睡眠问题?你可以试试这个呼吸练习,它可以帮助你放松身体,平静你的头脑。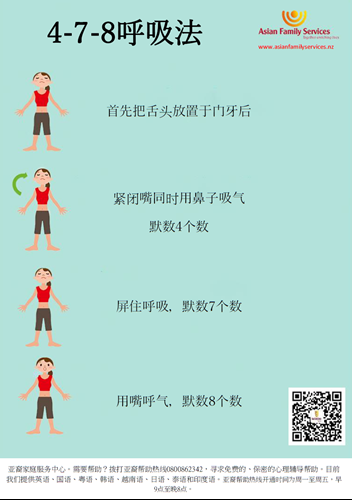 Korean
초조감, 불안함, 근심으로 잠을 못 주무시고 계신가요? 이 호흡법을 따라해 보세요. 여러분의 몸을 이완시키고 마음을 가라앉혀 줄 것입니다.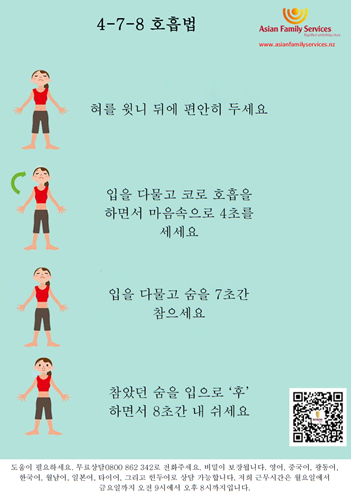 Japanese
あなたは、不安や心配になったり、夜眠れなくなったりしていませんか?
そんな時は、呼吸法のエクササイズを試してみてください。この呼吸法は、体をリラックスさせ、心を穏やかにするのに役立つと思います。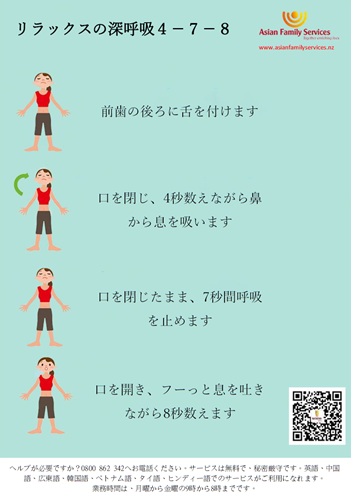 Thai
คุณรู้สึกกระวนกระวาย / กังวลหรือมีปัญหาในการนอนตอนกลางคืนหรือไม่? ลองฝึกการหายใจนี้และมันอาจจะช่วยให้คุณผ่อนคลายและทำให้จิตใจสงบได้.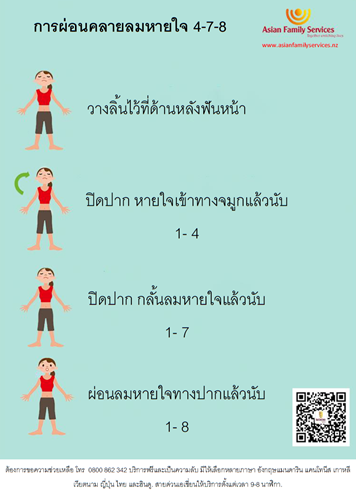 Vietnamese
Bạn đang cảm thấy bồn chồn / lo lắng hoặc khó ngủ vào ban đêm? Hãy thử cách thở này, nó sẽ giúp bạn thư giãn cơ thể và làm dịu tâm trí của bạn.
View or Download resources
Chinese
Korean
Japanese
Thai
Vietnamese