Asian Family Services (AFS) is a non-profit organization that provides face-to-face, telephone and online counselling services for Asians (including Asian international students) living in New Zealand.
AFS provides counselling services in eight languages, including English, Mandarin, Cantonese, Korean, Japanese, Vietnamese, Thai and Hindi. If you or your family needs emotional or mental help, please call our Asian Helpline 0800862342.
Recently, the 2020 New Zealand Asian Mental Health and Wellbeing Survey initiated by Asian Family Services and commissioned by Trace Research released its findings.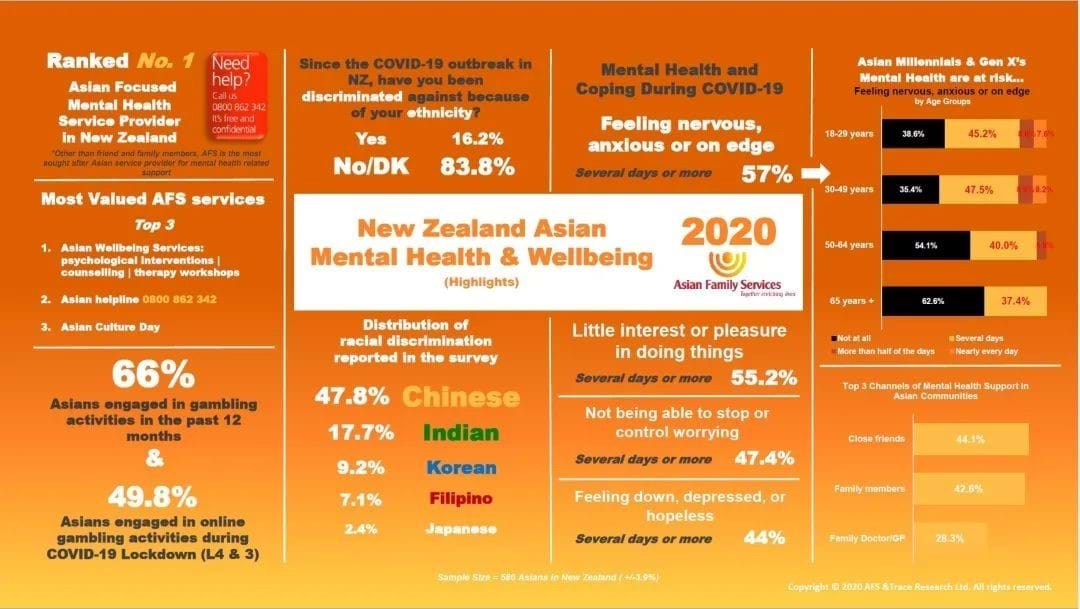 The research showed that in the last 12 months, 66% of Asians engaged in gambling activities, almost 30% higher than the national average gambling prevalence (38.7%).
During the COVID-19 Lockdown (Alert 3 and 4), 49.8% of Asians engaged in online gambling activities. In comparison, the same-period national equivalent is 30.2%.
By and large, the proportion of New Zealand Asians gamblers is noticeably higher than the national average level.
So, what gambling activities are the Asians prone to get involved? What age group of Asians are fonder of gambling? Let's delve into the detailed analysis as follows.
01 What are Asians' favourite gambling games?
Lotto, Strike and Powerball are the top-3 gambling ways that Asians are most likely to participate.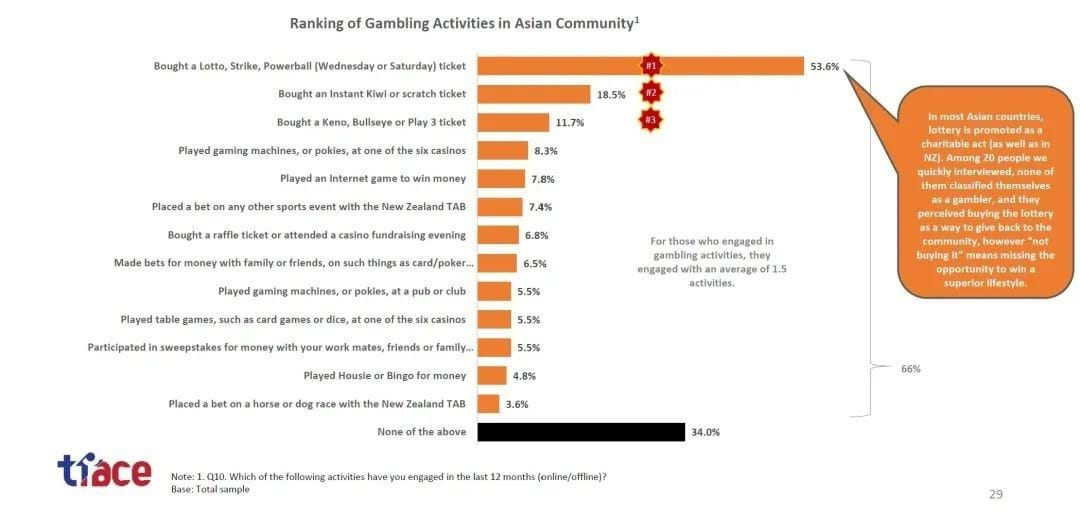 After an in-depth interview of 20 representative cases, it shows that no one believe their buying lottery is gambling, in that all advertising and promotion about lottery says "lottery is charity", "buying lottery is making contributions to the society".
If they do not involve in lottery, it felt as lf "they had lost a chance to make their life richer".
As a matter of fact, all these lottery buying behaviours are gambling regulated by New Zealand Gambling Act 2003.

02 Which Asian ethnicity has the highest gambling prevalence?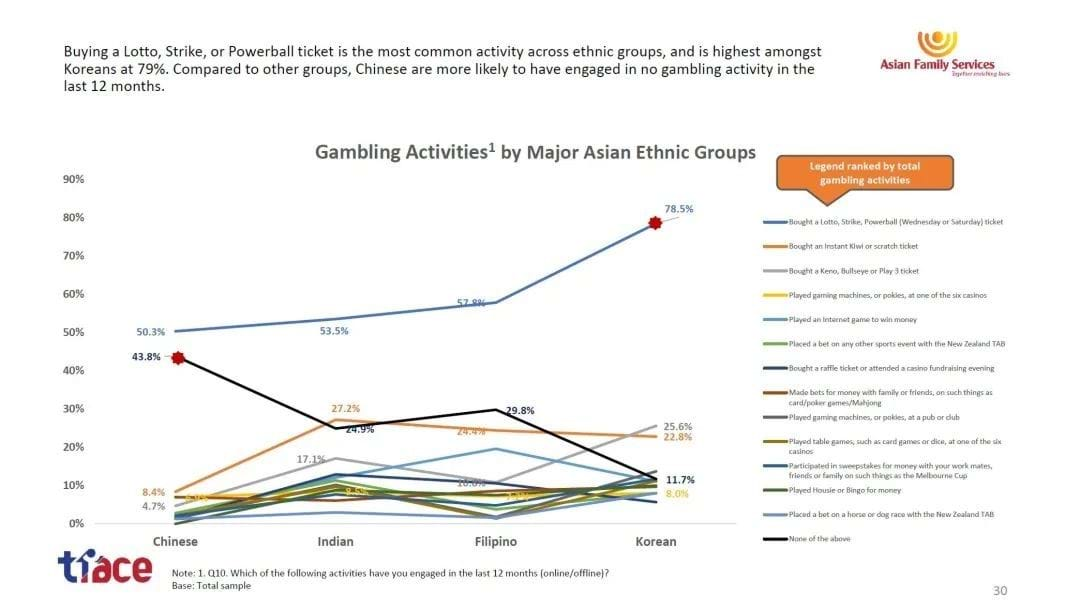 The research found that Koreans have the highest proportion of engaging in gambling activities—only 11.7% have not gamble in the last 12 months.
Chinese has the lowest proportion of gamblers compared to other ethnic groups. Having said that, still over 56.2% of Chinese respondents reported engaging in gambling. Populationwise, because the Chinese population in New Zealand is far greater than the Korean, Chinese gamblers outnumbered the Koreans in absolute number.

03 Any gender difference, or age difference in gambling behaviour?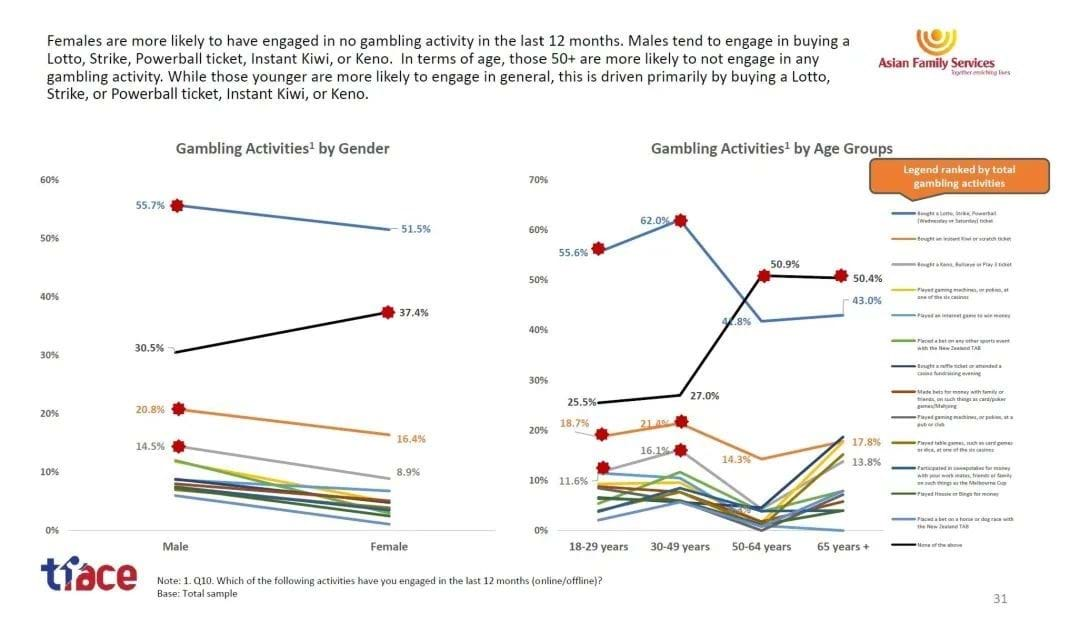 Generally speaking, females are less likely to have engaged in gambling activities in the last 12 months.
In term of age, Asians aged 50 and more are less likely to engage in gambling. The younger generation are more likely to buy Lotto, Strick or Powerball tickets etc.

04 In which job status do Asians tend to gamble more?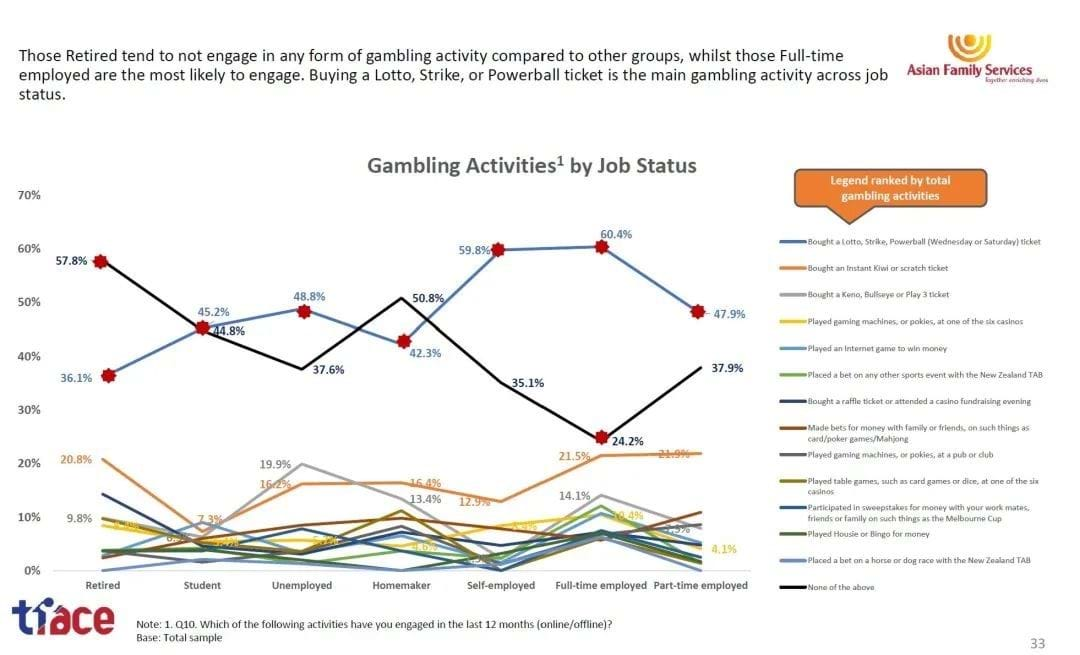 According to the survey, those full-time employed are the most likely to engage in gambling (75.8%), whereas those retired tend not to engage in any form of gambling (42.2%) compared with other groups.

05 Do Asians engage more in online gambling?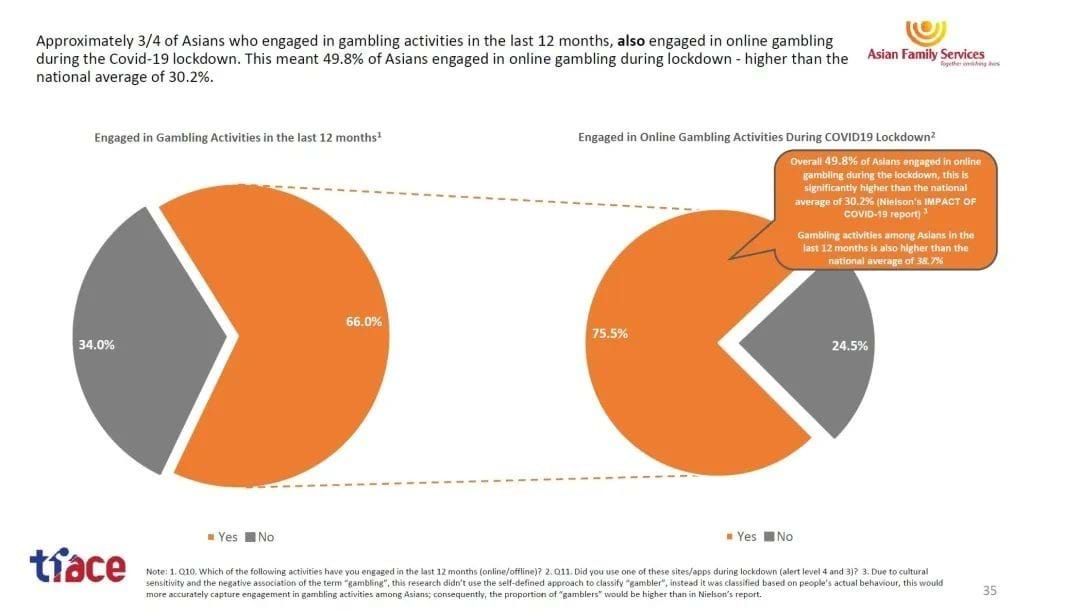 During the COVID-19 lockdown, 49.8% of Asians engaged in online gambling during lockdown, significantly higher than the national average of 30.2%.
66.6% of Asian engaged in online gambling activities in the last 12 months. This proportion is also higher than the national average of 38.7%.

06 Which age group engages less in online gambling?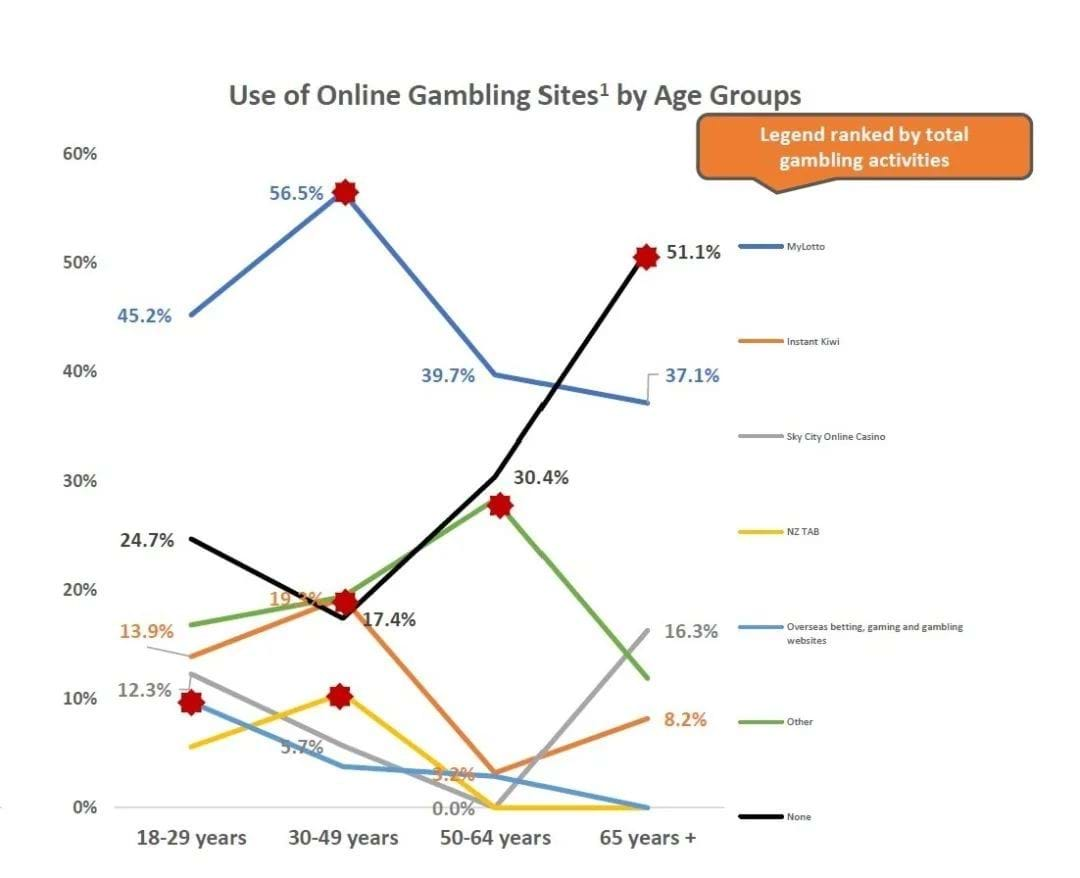 Those aged 65 or more are the least likely to engage in online gambling.
Those between 19 and 29 tend to use more overseas gambling sites.
Those aged 30-49 engaged more in NZ online gambling such as MyLotto, Instant Kiwi and NZ Tab.
Those aged 50-64 had a higher proportion of using other online gambling sites.
07 In which job status are Asians more prone to online gamble?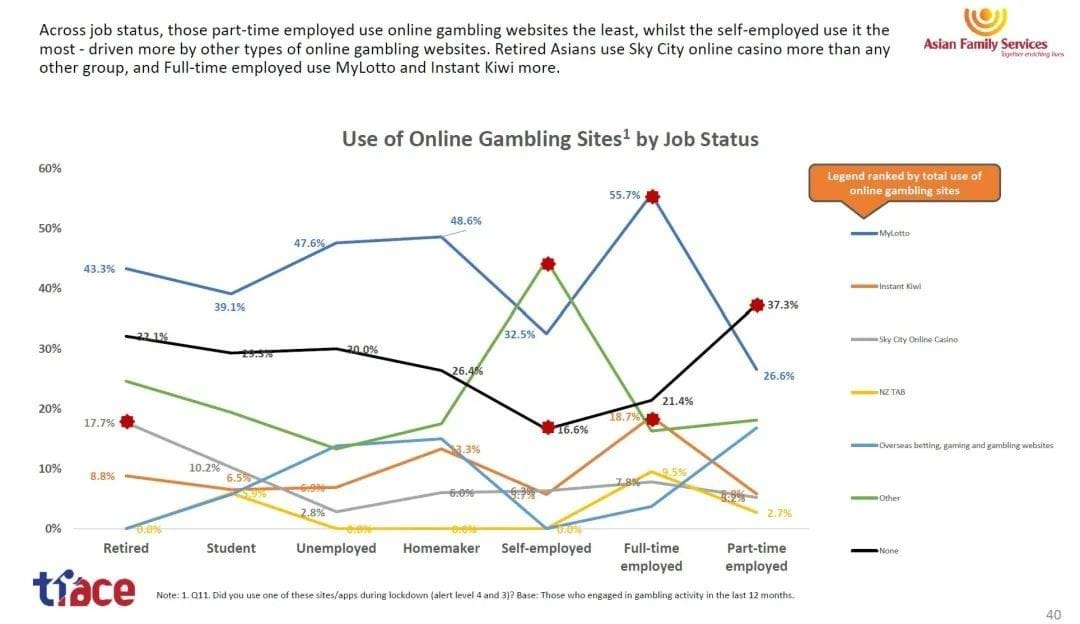 Unlike the results of general gambling, self-employed Asians engaged more in online gambling, while part-timers are least likely to gamble online.
Meanwhile, retired Asians have a higher proportion of using SkyCity's online gambling website, whereas full-time professionals use more My Lotto and Instant Kiwi.
The research findings revealed a previously unnoticed truth: Asians living in New Zealand gamble more pervasively than the national average. The gambling issue of Asians needs more close attention.
Everyone has the right to gamble legally in New Zealand, but please stop gambling if gambling has caused you trouble, such as
1.chasing money you have lost
2.hiding your gambling to people who are important to you
3.feeling guilty about your gambling
4.losing track of time when gambling
5.spending more money on gambling than you had planned
6.gambling when feeling stressed or lonely
7.feeling regret after gambling
8.borrowing money to finance gambling
9.losing interest in other stuff
If you have one or more ticks above, or you are concerned about your gambling, you can talk to someone in confidence in understanding more about your gambling behaviour.
(Copyright claim: The copyright of all information published belongs to Asian Family Services. If you want to repost it, please leave a message to our editor on AFS website)

Call free on our Asian Helpline
0800 862 342
(Helpline hours: 9am to 8pm, Monday to Friday)
You can call the Asian Helpline on 0800 862 342 that provides free, confidential and professional counselling and support services in eight languages: English, Cantonese, Hindi, Japanese, Korean, Mandarin, Thai and Vietnamese.